The Cherry-Like Fruit That is Loaded with Vitamin C and So Much More
These Potent Berries Contain Up to 6,000% More Vitamin C than an Orange
This Amazing Superfruit Adds Health-Boosting Punch to Snack Foods, Beverages and Nutritional Supplements
Whether you are producing nutrition bars, juices or other beverages, or looking to create a supplement that packs an extra health-boosting punch, Peruvian Nature's Camu Camu powder is a great choice.
Camu Camu powder is extremely high in vitamin C content, an all-time great antioxidant which helps slow down the cellular aging process by neutralizing the free radicals that are widely acknowledged as one of the primary causes of aging-related health issues.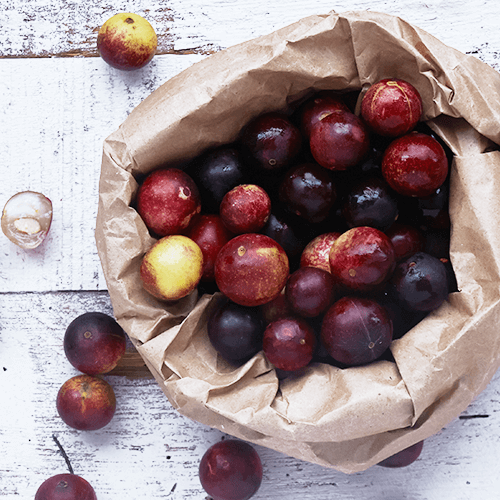 Promotes Heart Health … And So much More
Each teaspoon of Camu Camu powder contains up to 750% the free radical fighting Recommended Daily Intake (RDI) of vitamin C. In addition, Camu Camu is packed with health-boosting amounts of potassium, amino acids and magnesium. This potent combination of nutrients has been scientifically shown to support:
Heart Health: The combination of vitamin C and other critical minerals in Camu Camu have been shown to combat oxidative stress which helps relax blood vessels, supporting healthy blood pressure and arteries
Liver Health: Vitamin C is a natural detoxifer which supports and promotes healthy liver function
Energy Production: The amino acids and potassium in Camu Camu help boost energy levels as well as supporting healthy muscle function while enhancing overall physical performance
Healthy Immune System Function: Free radicals can wreak havoc on the immune system and vitamin C plays a vital role in keeping the immune system healthy and functioning properly
Blood Sugar Levels: Camu Camu can help minimize the spike in blood sugar levels that can occur after eating a high-carb meal
The Cherry-Like Fruit from the Amazon
Camu Camu is a cherry-like "superfruit" commonly found in the Amazon rainforests of Peru and Brazil. While these berries can be eaten, they do have somewhat of a tart taste so they are best taken in supplement form, or in a beverage that contains some kind of sweetener.  Also, the nutritional content of Camu Camu is at its most potent when the powder is made from the entire berry, including the skin, fruit and seed.
Certified Organic From Whole Berries
Peruvian Nature's Camu Camu Powder Extract is certified organic by the U.S. Department of Agriculture, and is made from whole berries to maximize purity and potency.  It is also available in non-organic powder and dehydrated presentations, and all Peruvian Nature Camu Camu is certified:






Ready for Immediate Shipment
Peruvian Nature's Camu Camu is ready for immediate shipment.  We will also help you skip the export/import bureaucracies and other hurdles that might get in the way of your manufacturing schedule.